Kahdestoista hassutus on valmis. Kun aloitin tätä, ajattelin että tästä tulee tyyny sohvalle, mutta tästä taitaa kuitenkin tulla taulu. Vien tämän kehystykseen parin muun työn kanssa myöhemmin kesällä. Malli on Little House Needleworksin "Sarah Street Faithfulness", kankaana tässä on kermanvärinen pellava (32 count Belfast Linen). Langat ovat ihan ohjeenmukaiset. Eikun vaihdoin vasemmassa reunassa olevien kukkasten värin, koska muuten ne eivät oikein olisi erottuneet kankaasta. Ne olisivat nimittäin tulleet alunperin tuolla värillä kuin sydämen sisäosa…
My twelfth "crazy January work" is ready now. When I started to stitch this, I thought that this will be a pillow, but now I think that I am going to frame it. The design is "Sarah Street Faithfulness" from Little House Needleworks and the fabric is 32 count Belfast Linen, colour cream. I changed the colour of flowers in the left side of work but rest of the colours are just like in the design.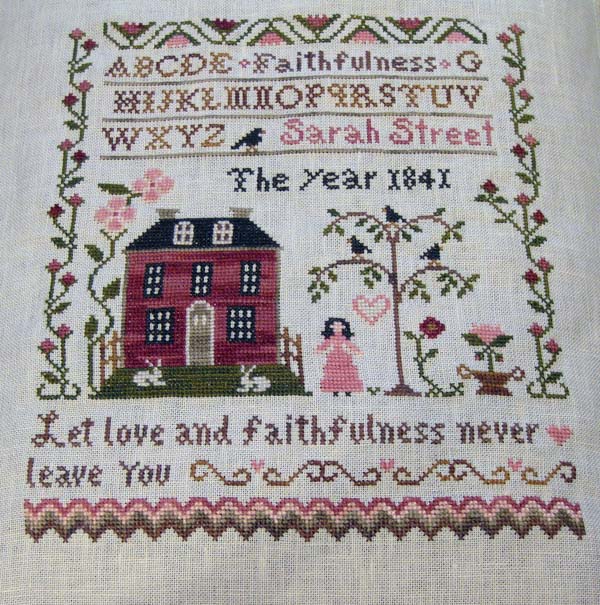 Nyt odottelen kangasta ja helmipakettia Chatelainen Tuscany Town Mandalaan. Katrin ihanista mandaloista sain inspiraation aloittaa oma mandala.
Now I am waiting for beads and fabric for Chatelaine's Tuscany Town Mandala. Katri has so beautiful mandalas and I decided to start my own.