Tässä vielä viimeiset joulukalenterista ilmestyneet lahjat. Aivan ihania kaikki. Bianconeri-karkkeja, Tilda-kangasta, pitsinauhaa pitsipuolassa, pieni keijurasia (jonka sisällä on ihania lumihiutalenappeja, en huomannut ottaa niitä kuvaan mukaan) ja jouluaattona paketista löytyi suloinen LHN:n lammastyyny. Kiitos Mari :)
Here are last gifts from advent calendar, all so nice – sweets, Tilda fabric, lace ribbon, a little fairy box and cute little sheep pillow (LHN). Thank you Mari :)
Maaritilta sain ihanan värisiä lankoja, kaksipäisen virkkuukoukun ja ohjeen koukuttuihin lapasiin. Lisäksi oli vielä Maaritin Kiinan reissulta tuomaa upeaa silkkilankaa. Lueskelin koukkuamisohjetta, mutta homma ei ihan auennut pelkästään lukemalla. Oli pakko kokeilla ja jäin jo koukkuun :) Kiitos Maarit!
Maarit sent me lovely yarns. I already started to crochet mittens. Thank you Maarit!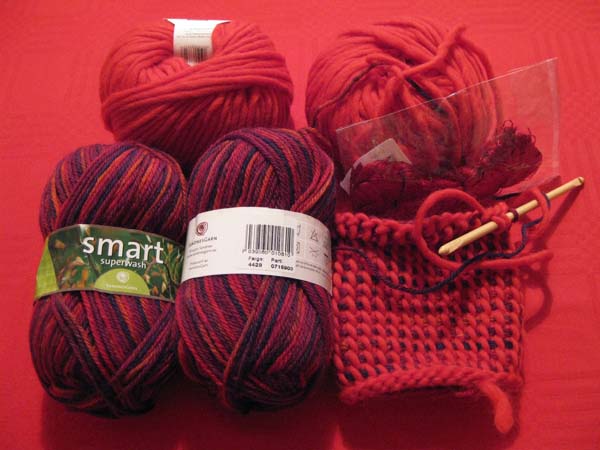 Irmeliltä sain mitä suloisimman sydäntyynyn, heijastimen, suklaata, jouluista kukkakeijukangasta ja lautasliinoja. Niin kivoja kaikki. Ja kauniin joulukortin! Kiitos Irmeli!
I got this lovely stitched heart, chocolate and fairy fabric from Irmeli. They are so nice. And this lovely Christmas card is also from her. Thank you Irmeli!
Kiitos hyvän joulun toivotuksista. Hyvää joulun pyhien jatkoa! Lähdin taas sen verran ajoissa joulun viettoon, että kaikkia kotiin tulleita joulukortteja en ole vielä nähnyt.
Thank you for Christmas wishes. Merry Christmas!