Tykästyin todella paljon tähän Kissy-Cross -blogista löytämääni Cardinal Heart -ilmaismalliin. Tein tällä mallilla Marille rasian, Maaritille pikkutyynyn (kuvat pari viestiä taaksepäin) ja vielä ystävillemme Englantiin pienen sydämen. Malli on mielestäni tosi kaunis ja niin nopea pistellä. Voi olla, että teen näitä jopa vielä lisää ensi jouluksi…
I really like this Cardinal Heart -freebie that I found in the blog Kissy-Cross. I made three stitches with this design for this Christmas. Here is a little heart pillow for our English friends. Other photos are in the earlier posts.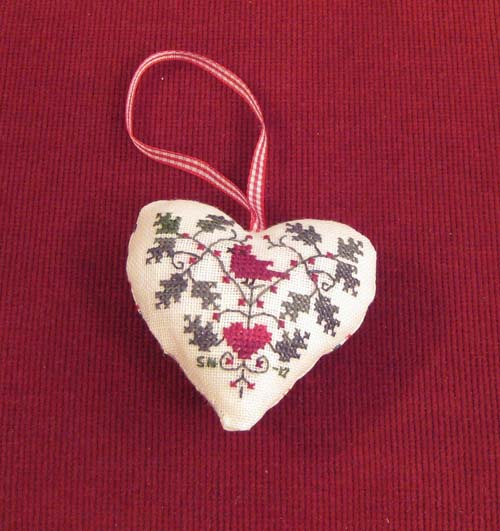 Marilla on näin alkuvuodesta synttärit ja synttärilahja tulee aina pisteltyä jo edellisen vuoden puolella. Niinpä tämäkin pikkutyyny on pistelty vuonna 2012. Malli on ilmaismalli "Stitcher Sampler". Tämäkin oli tosi kiva pieni pistely ja näitäkin voisi tehdä lisää… Hyvää syntymäpäivää Marille!
Mari has her birthday in the beginning of the year, so I have stitched this little pillow last year. This is a freebie called Stitcher Sampler. Also this was nice to stitch. Happy birthday Mari!