Eila-ystäväni yllätti ennen joulua ihanalla poroaiheisella koristeella. Tämä on niin kaunis ja tyylikäs. Kiitos <3 My friend Eila surprised me with this lovely reindeer ornament. It is so nice! Thank you <3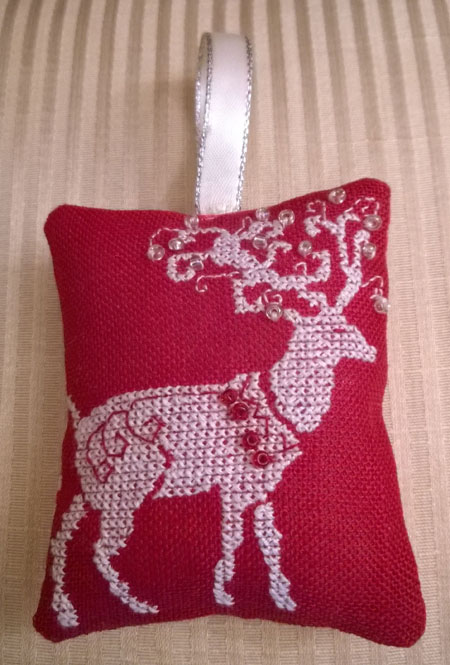 Vaihdoimme Maaritin, Irmelin ja Marin kanssa joulupaketteja kuten jo niin monena jouluna aikaisemminkin. Irmeliltä sain aivan ihastuttavan kissatyynyn. Miten kekseliäs viimeistely, Mari jatkoi ihanaa lammasteemaa ja Maaritilta oli kaunis porotyyny. Paketeissa oli myös ihania lisukkeita. Kuvasta puuttuu ainakin suklaalevy, joka on syöty ja heijastin, joka meni heti käyttöön. Kiitos :)
I got these lovely gifts from Maarit, Irmeli and Mari. The cat pillow is so cute and how nicely finished. And the sheep pillow is just a beauty and so is the reindeer pillow. I also got other presents from there, photo below. Thank you :)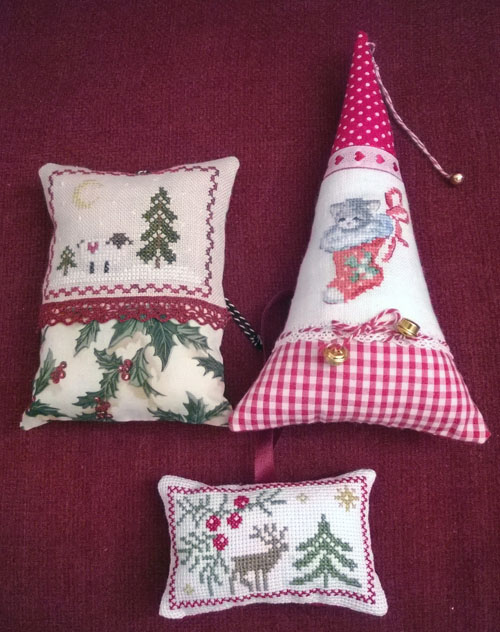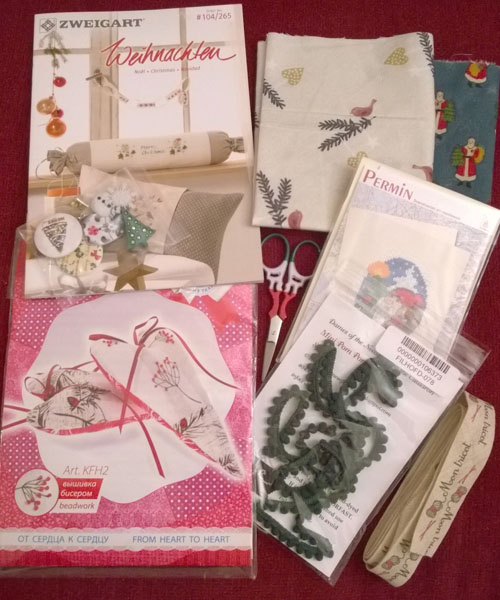 Itse pistelin Maaritille, Irmelille ja Marille pienet lintukoristeet.
Here are my stitched gifts to Maarit, Irmeli and Mari.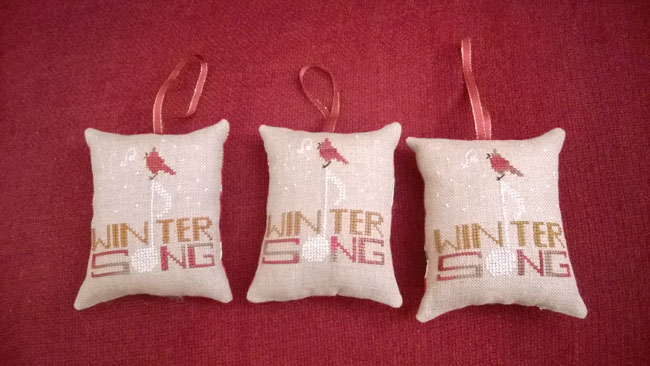 Lisäksi kudinpuikot ovat kilkattaneet (tai no, puisia puikkoja käytän nykyään eli kilkatusta ei kuulu). A, H, M, P, M ja A saivat tiikeri-/leopardisukat ja Timolle kudoin pesukarhusukat joululahjaksi. Lisäksi kudoin parit viisilehtitossut ja Marille synttärilahjaksi sukat.
I have also knitted. Here are socks that I have knitted for my family. And there are also birthday socks for Mari.