Kyllä täällä pistellään, vaikka blogin päivityksessä onkin ollut taukoa. Useampia töitä on valmistunut – osa on vielä viimeistelemättä, niistä myöhemmin.
Yes, I do cross stitches, even though it is quite a long time since I have updated my blog.
Edellisessä viestissä olleet Egypti- ja Pariisi-taulut ovat tulleet kehystyksestä. Nämä eivät ole vielä löytäneet varsinaista paikkaansa eteisestä, koska matka-aiheisia tauluja on vielä kehystettävänä. Täytyypä muuten ottaa näistä uudet kuvat, kun nämä ovat näin "heijasteiset".
I have got these works from framer.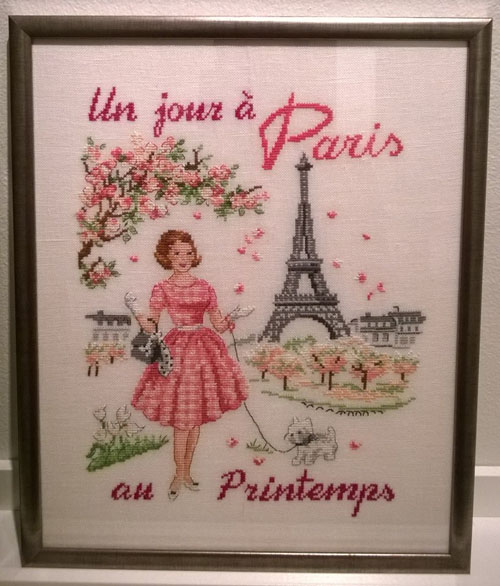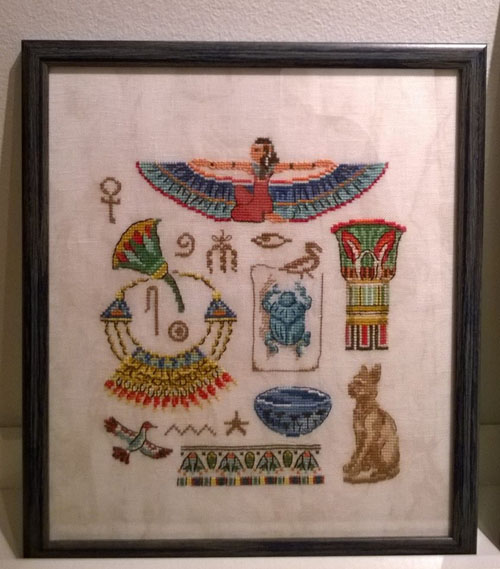 Little House Needleworksin "Gourmet Garden" valmistui kesäloman aikana. Kangas on Zweigartin 32 pt Belfast Linen, väri on luultavasti Light Sand. Kehystin tämän itse Ikean kehyksillä.
I finished this "Gourmet Garden" from Little House Needleworks during my summer holiday. The fabric is Zweigart's Belfast Linen Light Sand. The frame is from Ikea.
Vietimme Irmelin luona kesäistä iltapäivää viime viikolla ja vein hänelle tuliaisiksi tämän "roikon". Malli on Véronique Engingeerin "Abécédaires au point de croix" -kirjasta. Kankaana jälleen Zweigartin Belfast Linen, Light Sand.
This little pillow I made for Irmeli. We had a nice summer meeting at her home last week. The design is from Véronique Enginger's book "Abécédaires au point de croix" and the fabric i Zweigart's Belfast Linen, Light Sand.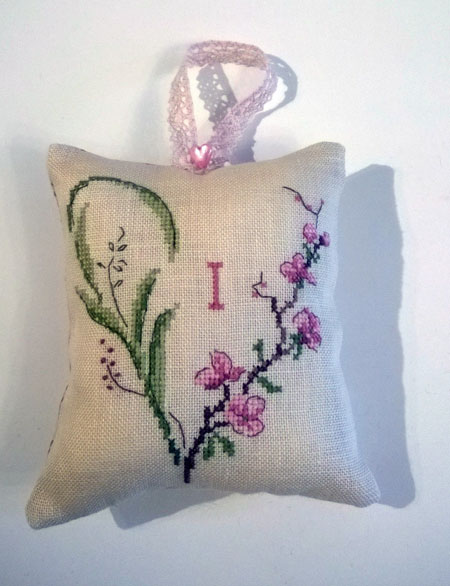 Maijan synttärilahjaksi tein saksikoristeen. Malli on Creation Point de Croixin numerosta elo-/syyskuu 2014.

I made a little scissors fob for Maija at spring. The design is from the magazine "Creation Point de Croix", August/September 2014.
Bloggaamatta on jäänyt myös Irmelille tekemäni jouluinen koriste ja Arjalle tuliaisiksi tehty pikkutyyny.
I have also made these little pillows for Irmeli and Arja.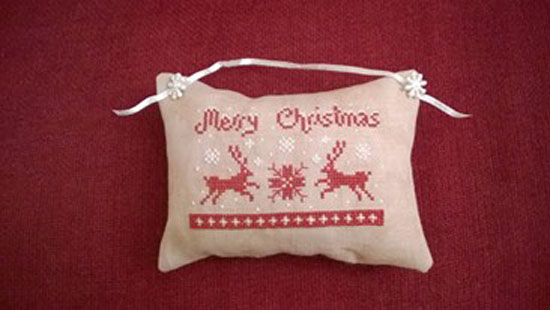 Irmeli oli tehnyt minulle suloisen nimipäiväkortin. Niin kaunis!
Last week I got this lovely card from Irmeli.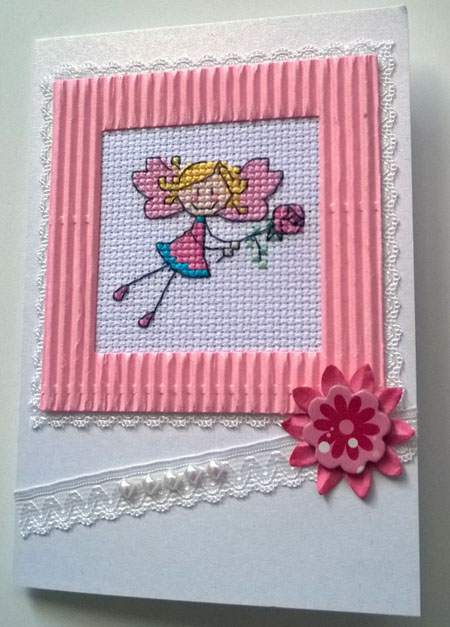 Jennimarilta saamani suloinen pupukortti on myös laittamatta blogiin. Tämä on niin söpöinen!
And I have not introduced this nice Easter card from Jennimari. It is so cute!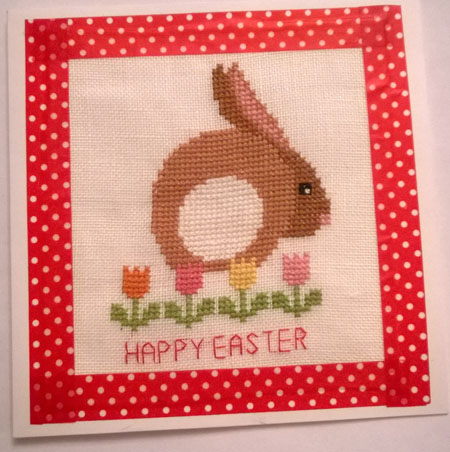 Toivottavasti saan vähän ahkerammin päivitettyä blogia jatkossa. Viimeistelyä odottamassa on kaikenlaista.
Let's hope that I can update my blog soon again, there are some cross stitches that I should finish.