Juteltiin eilen ystävien kanssa, että blogit pitäisi herättää henkiin. Tässä kuvia saamistani syntymäpäivälahjoista.
We talked with friends that it would be nice to read blogs again. So, here are some photos of my birthday gifts.
Maijalta sain ihanan laukun, johon on pistelty Tralalan "Maison aux Oiseaux". Maija on tehnyt kassin yhteistyössä Sari H:n kanssa. Ulkoilutin laukkua eilen ja se sai ihailevia kommentteja osakseen :) Lisäksi sain ihania Pariisi-aiheisia ristipistoja, Just Cross Stitch -lehden ja Tralalan "Je tricote été"-mallin. Maijamaisen runsaasta paketista löytyi vielä lankapidike ja sakset. Kiitos ystäväni!
Maija had stitched Tralala's "Maison aux Oiseaux" and together with Sari H. they had made a lovely bag for me. I also got nice Paris-designs, Just Cross Stitch magazine, Tralala's "Je tricote été" and scissors. Thank you Maija! What a nice gift.
Katrilta sain suloisen saksikoristeen. Molemmilla puolilla söpöt kissat. Näyttävät ihan "meidän" Lakulta (erään sukulaisen kissa). Saksikoriste pääsi koristamaan Maijalta saamiani saksia.
Look at this cute scissors fob. It is stitched by Katri. The scissors are from Maija.
Marin kanssa on tämän vuoden teemana Ranska. Paketissa oli uusin Creation Point de Croix -lehti ja kaunista perhoskangasta. Nämä ranskalaiset ristipistolehdet ovat kyllä ihan parhaita. Kiitos :)
Mari gave me the latest issue of Creation Point de Croix and lovely butterfly fabric. These French magazines are just the best. Thanks!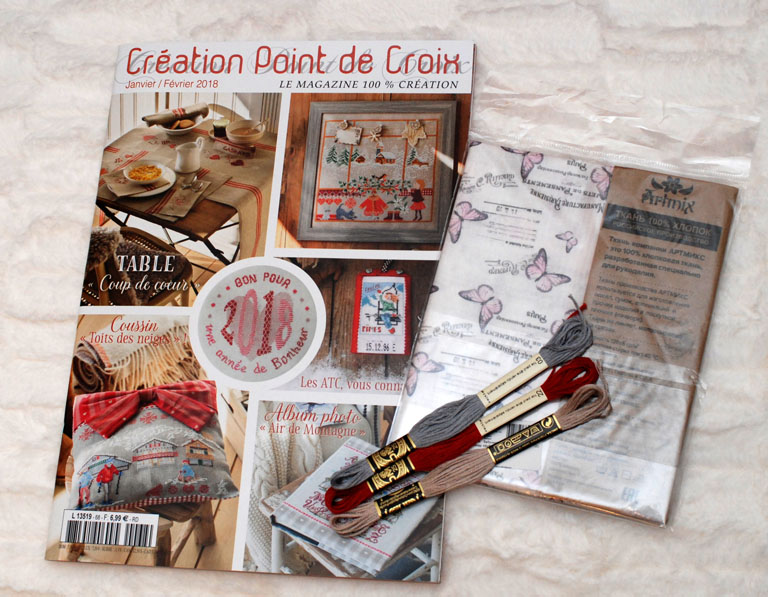 Irmeli oli jälleen kerran keksinyt ja toteuttanut hienon viimeistelyn. Suloinen kisupistely on laitettu tarjottimen pohjaan. Irmelin paketista löytyi vielä pitsinauhaa, laventelinväristä lankaa ja ihana laventeli-malli. Kiitos! Kyllä vanheneminen oli taas juhlaa :)
This lovely kitten is stitched by Irmeli. I also got a nice lavender design, lavender thread and lace from her. Thank you Irmeli!