Ristipistohassutus numero 13/15 on nyt pistelty, mutta vielä on kova työ, että siitä saa koottua rasian. Reunan ristipistot ovat yhdellä yhden yli. Aluksi tuntui tosi hankalalta, mutta pikkuhiljaa siihenkin tottui ja rupesi tulosta syntymään vähän nopeammin. Mukana vielä vanha kuva rasian kansipistelystä.
I have now stitched my Crazy Januray Cross Stitch Challenge number 13/15, but there is still lot's of work to make a box. The sides of box are stitched one over one. There is still an old photo of the cover.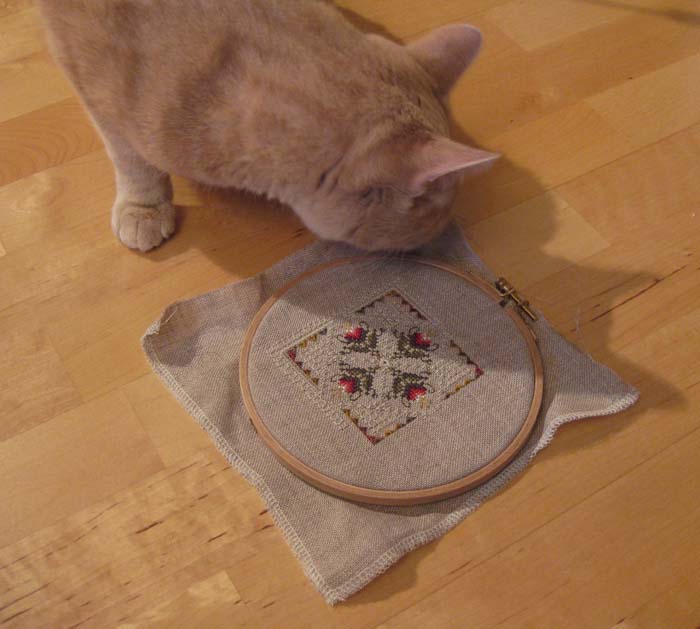 Voitin Kirsin ja Emman nukkisblogissa arvonnan. En edes muistanut osallistuneeni, kun Kirsiltä tuli tekstari, että olen voittanut – iloinen yllätys siis :) Palkinnoksi sain suloisen broderiekyltin ja ihanaa kissakangasta. Tuo kissakankaan alla näkyvä kangas on meidän uusista makuuhuoneen verhoista jäänyttä kangasta. Luulenpa, että teen näistä pari koristetyynyä makuuhuoneeseen, kun värit sopivat niin hienosti yhteen.
I won a lottery in Kirsi's & Emma's blog. I got this cute broderie sign and lovely cat fabric. The fabric fits so well to our cartoons – so I think that I am going to sew some pillows from these fabrics.