Lähdin joulun viettoon jo muutaman päivän ennen joulua ja niinpä osa joulukorteista tavoitti minut vasta sunnuntaina – mm. tämä ihana Ninnun pistelemä kissakortti. Kiitos Ninnu, ilahduin kovasti.
I got some Christmas cards after Christmas. This lovely cat card from Ninnu was one of them. Thank you Ninnu, I like this a lot!
Ristipistohassutusrintamalla on edetty rauhallisempaan tahtiin. Toinen päivä aloitin "Angels Rose" -pistelyn uudelleen. Tästä on tulossa kaulakoru.
The second start was "Angels Rose" again. This will be a necklace.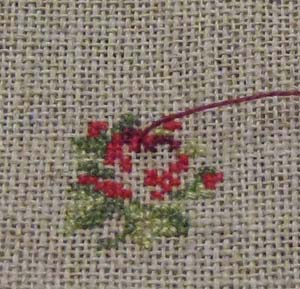 Kolmas päivä eli tänään aloitin Christmas Tea -mallia. Ihastuin tähän malliin ennen joulua ja tuskin maltoin odottaa hassutukseen asti tämän aloittamista. Olen metsästänyt sopivaa kangasta tähän ja vihdoin löysin Casa Ceninasta ihanan väristä kangasta (väri marmori). Kankaan väri ei kyllä tule tässä kuvassa oikein esiin.
The third start was Christmas Tea. I found nice fabric (color marmor) from Casa Cenina. The photo does not show the color right.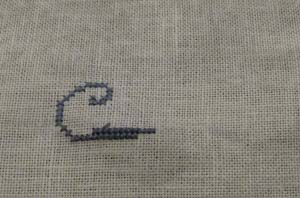 Huomisen pistely on vielä ihan miettimättä. Sen näkee sitten illalla :)
I don't know yet, what I am going to stitch tomorrow. Let's see…