Tässä lupaamani matkaraportti… ja paljon kuvia… (suurenevat klikkaamalla)
Here is the report of our journey… and lot's of photos…
Vietimme kaksi viikkoa aurinkoisessa ja lämpöisessä Sisiliassa. Ilmat todella suosivat – yksi pilvinen päivä, kaikki muut aurinkoisia. Saimme tuttavalta vinkin kivasta majapaikasta Letojannissa. Casale Praia olikin todella miellyttävä Bed and Breakfast -paikka. Kiitokset Britalle hyvästä palvelusta ja juttuseurasta. Plussana paikassa oli kauniin ympäristön ja hyvän aamiaisen lisäksi kotieläimet Branca ja Polly :)
We stayed two weeks in warm and sunny Sicily. The weather was really nice – one cloudy day, other days were sunny. We got a tip of a nice Bed and breakfast place from a friend. And Casale Praia really was a nice pleace. Thank you for the hostess Brita from the service and nice company. And Branca & Polly made our stay there just purrrr-fect.
Kävimme junalla Palermossa. Siellä majoituimme kolme yötä hotellissa. Kävimme mm. Monrealen kirkossa, Palermon duomossa ja Palatina-kappelissa. Palermossa oli mukavaa, mutta paluu Letojanniin tuntui paluulta kotiin.
From Letojanni we travelled to Palermo by train. We visited for instance Monreale cathedral, Palermo cathedral and Palatina chappel. Just gorgeous churches! Palermo was really nice but coming back to Letojanni was like to come back to home.
Letojannin vähän isompi lähikaupunki on Taormina. Siellä kävimme mm. kreikkalaisessa amfiteatterissa, josta oli upeat näkymät merelle, vuoristoon ja Etnalle. Taorminan edustalla olevalle saarelle (Isola Bella) piti vähän kahlata, kun vesi oli sen verran korkealla. Taorminasta lähtee kävelyreitti 700 metrin korkeudessa olevaan Castelmolan kylään. Kiipesimme sinne katselemaan huikeita maisemia.
The nearest little bit bigger city than Letojanni is Taormina. We visited for instance Greek Theatre and there were nice sceneries from there. We also climbed to the Castelmola town (about 700 metres above sea).
Kahtena päivänä meillä oli auto käytössä ja silloin kävimme "Kummisetä-kylissä" Savocassa ja Forza d'Agròssa sekä toisena päivänä Temppelilaaksosa (Valle dei templi). Savocassa nautimme Bar Vitellissä sitruunagranitat con Zibibbo ja kävimme Kummisetä-elokuvista tutussa Michael Corleonen ja Apollonian vihkikirkossa. Forza d'Agròssa kiertelimme kapeita kujia, söimme tosi hyvät pizzat Antichi Murissa ja kävimme taas katselemassa Kummisetä-elokuvista tuttua kirkkoa (Santissima Annunziata). Sekä Savoca että Forza d'Agrò ovat todella viehättäviä pieniä vuoristokyliä.

We rented a car for two days and we visited villages (Savoca and Forza d'Agrò) where they filmed Godfather-movies. In Savoca we ate first granitas with Zibibbo in Bar Vitelli. Then we visited the wedding church of Michael Corleone and Apollonia. In Forza d'Agrò we walked through the narrow alleys and visited some churches – among them Santissima Annunziata which also is used in Godfather-movies. Both Savoca and Forza d'Agrò are really beautiful mountain villages.
Myös Valle dei Templi oli vaikuttava paikka. Todella jyhkeitä pilareita. Osa temppeleistä oli vielä osittain koossa. Osa ihan palasina.
Another day when we had a car, we visited the valley of temples (Valle dei Templi). Some temples were just in pieces but some in quite good condition.
Aikomuksemme oli käydä Cataniassa, mutta matkan aikana kuulimme, että Syrakusa on vallan ihastuttava kaupunki ja mieluummin kannattaa ehkä mennä sinne. Niinpä matkustimme junalla Syrakusaan ja ihastelimme kaunista vanhaa kaupunkia, joka on rakennettu pienelle Ortygian saarelle. Todella kaunis ja puhdas kaupunki. Roskan roskaa ei näkynyt missään.
We were going to visit Catania, but during the journey we heard that Syracuse is just gorgeous town. So instead of Catania we visited Syracuse. And it really was a lovely town. The old town has been built to little island (Ortygia).
Viimeisenä päivänä kävimme Etnalla. Etna tuprutteli koko reissun ajan vähän höyryä ja joinakin päivinä sateli laavahiekkaa niskaan. Etnalla kävimme katsomassa Monte Sartoriuksen 1800-luvulla sammunutta kraatteria. Söimme eväitä Grotta Ladronilla ja kiipesimme ihailemaan huikeita maisemia Valle di Boven yläpuolelle. Oli kyllä vaikuttava retki. Kiitokset Britalle opastuksesta.
In our last day in Sicily we were on Etna. We saw for instance an old crater, old grottas and wonderful sceneries above Valle del Bove. It was really nice to visit there. Thanks to Brita for being our guide.
Matkamme aikana sattui olemaan kunnallisvaalit. Oli hauska seurailla Italian vaalimainontaa ja Letojannin uuden sindacon (kunnanjohtaja) voitonjuhlia. Lisäksi satuimme Syrakusassa mielenkiintoiseen tilaisuuteen – Syrakusan suojeluspyhimyksen Santa Lucian hopeinen patsas siirrettiin kappelistaan pääalttarille 60 vihreälakkisen "uskollisen" kantamana ja kovan huudon saattelemana.
There was a communal election in Sicily during our journey. We also happened to see an interesting incident in Syracuse. The statue of Santa Lucia was moved to the altar with hands of 60 men who had green caps.
Käsitöitä ei juurikaan tullut tehtyä kahden viikon aikana. Muutaman piston tein, kuten kuvasta näkyy. Pari ristipistolehteä ostin.
I did just few cross stitces in those two weeks. And I bought just two cross stitch magazines.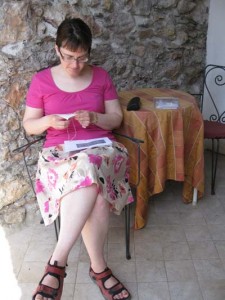 Ruoka oli hyvää, kuten Italiassa tapaa olla. Erityisesti pidimme Letojannissa Ciao Ciaosta, Syrakusassa Il Velierosta, Palermossa Piccolo Napolista ja Forza d'Agròssa Antichi Murista.
The food was soooo good, like it uses to be in Italy. Especially we liked Ciao Ciao in Letojanni, Il Veliero in Syracuse, Piccolo Napoli in Palermo and Antichi Muri in Forza d'Agrò.
Toivottavasti päästään pian uudestaan!!
Hope to go soon again!!