Tina kutsui ex tempore pistelyihin luokseen. Saimme ihastella Tinan perheen kaunista kotia ja syödä ihania herkkuja ja tietysti jutella ristipistoista ja muustakin – mm. leikekirjoista ja Dallasista. Kuten kuva todistaa, niin Mari oli taas kerran pukeutunut sävy sävyyn pistelyjensä kanssa :) Kylläpä oli tosi kiva nähdä Tinaa, Maria, Sonjaa, Sini Helmeä ja Nooraa.
Tina had a cross stitch meeting today. She has a really lovely home! There is Mari in this picture – she always has clothes of same color like the work she stitches :)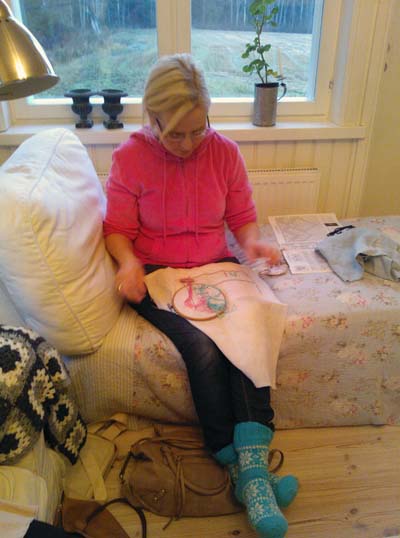 Itse pistelen Christmas tea -mallia. Toiveenani on saada se jouluksi valmiiksi ja eihän siitä paljon puutu, mutta kun on niin paljon kaikkea salaista pisteltävää ja neulottavaa, niin tämä edistyy vain vähän kerrallaan.
I stitch this Christmas tea -design. I hope I'll can finish it before Christmas. Actually there is not much to do – it is almost ready.