Tässä lahjoja, joita tänä vuonna laitoin paketeihin. Maijulle kudoin musiikkiaiheiset lapaset. Alkuperäinen ohje on Anne Neumannin "Fingerless Gloves Musica". Bettan2010 on muunnellut ohjetta ja nämä minun tekemäni ovat tämän ohjeen mukaan paitsi että olen hiukan itsekin tehnyt muutoksia. Nämä lapaset valmistuivat vasta joulupäivänä, kun kudoin peukalon ensin tuon alkuperäisen ohjeen mukaan ja se tuli ihan liian ylös. Jouduin purkamaan puolet lapasesta ja niinpä valmistuminen vähän viivästyi. Lankana Maija.
Here are presents that I gave to my friends. I knitted these Musical Mittens for Maiju. The design is originally Anne Neumann's "Fingerless Gloves Musica". Bettan2010 has changed the design and I used her design with these mittens.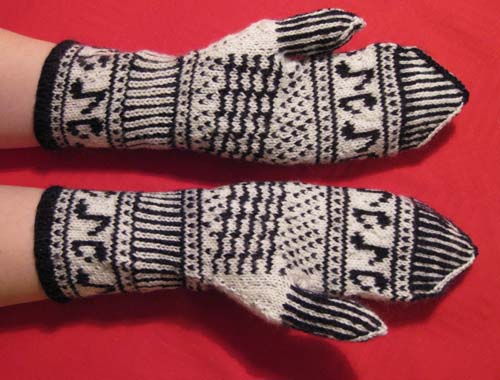 Annille kudoin merihevosaiheiset lapaset. Näidenkin ohje on Ravelryssa – Torirot Designin Hippocampus. Vähensin silmukoita ja jouduin piirtämään mallin uusiksi, mutta tuota mallia on käytetty tässä inspiraationa. Lankana Maija.
These seahorse mittens are for Anni. And the design is from Ravelry Torirot Designin Hippocampus. I changed the design a bit.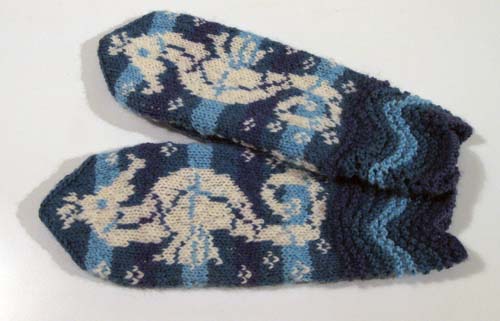 Sitten virkattuja lahjoja. Marille oli joulukalenterissa heijastinlangasta virkattu lumihiutale. Soilelle virkkasin enkelin ja samoin itselleni, kun kaikki heijastimet olivat kadonneet jonnekin. Pikkuruiset pannulaput ovat Marin nukkekotiin.
I crocheted some reflectors. The snow flake is for Mari, angel for Soile (another angel is for me) and little kettle holders are for Mari.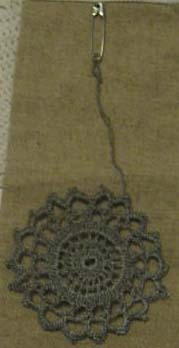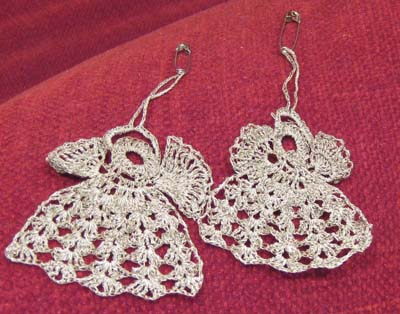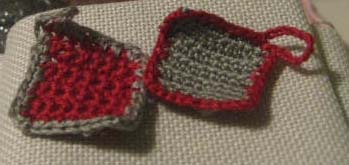 Ristipistoaiheisia lahjoja Marille joulukalenteriin luukkuun 24 päärynäpuukoriste (uusimmasta Just Cross Stitch -lehdestä) ja luukkuun 25 sydänrasia. Rasian viimeistely epäonnistui tällä kertaa :( – liimaa tuli ihan liikaa ja se ei kuivunut täysin näkymättömäksi ja pitsinauha meni vähän huonosti. Rasian pistely on ilmaismalli Kissy-Cross -blogista.
Mari got in her advent calendar these stitchings. Partidge in a pear tree (from Just Cross Stitch magazine) and heart shaped box (freebie from the blog Kissy-Cross).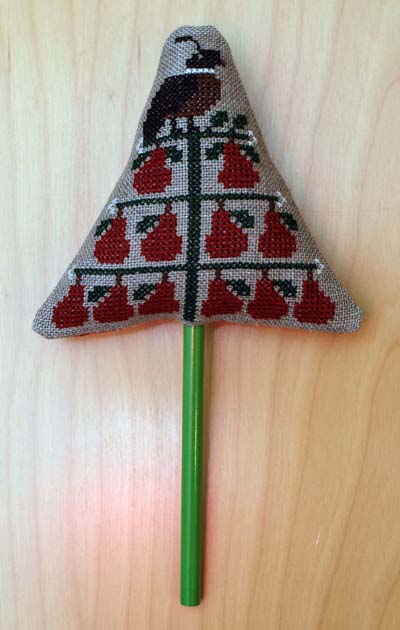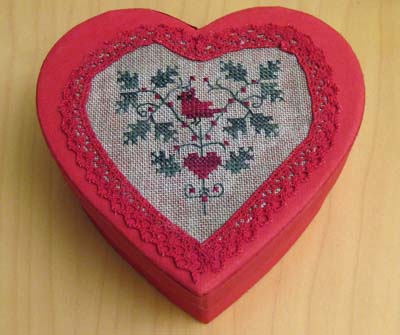 Irmelille, Jennimarille ja Maaritille pistelin pienet koristeet. Irmelin ja Jennimarin koristeissa käytin Emmulista ostamaani Sajoun Tonkin thread kimallelankaa. Aivan ihana lanka – voin suositella.
For Irmeli, Jennimari and Maarit I stitched little Christmas ornaments. The designs for Irmeli and Jennimari are from Just Cross Stitch magazines and for Maarit a freebie. I used Sajous Tonkin thread that I bought from Emmuli.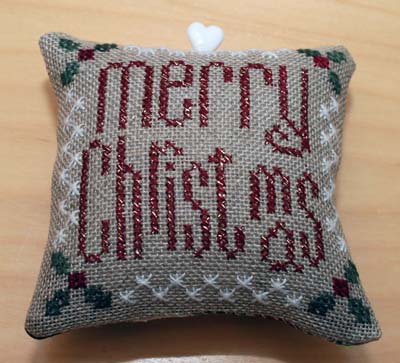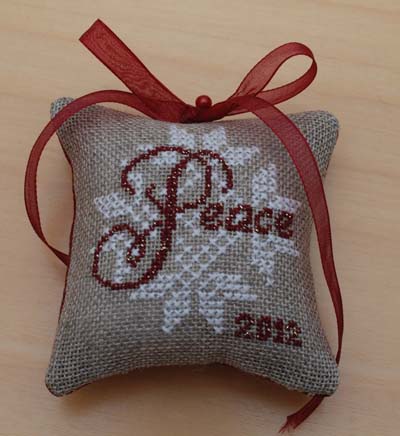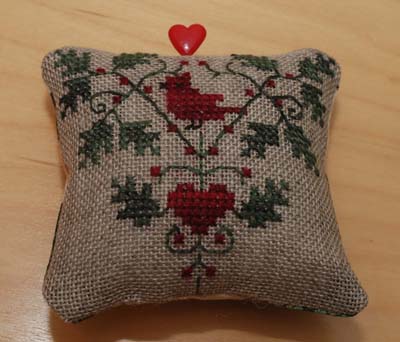 Tein itse muutaman joulukortin tänä vuonna. Tampereen messuilla näin tehdyn kortteja, joissa oli käytetty läpikuultavaa kangasta. Kangas liimataan kaksipuoleisella kontaktimuovilla korttipohjalle. Idea vaikutti helpolta ja nopealta toteuttaa. Muuten kortteja oli kiva tehdä, mutta tuo reunuksen tähtitarranauha ei meinannut tarttua kiinni.
I made some Christmas cards this year myself.