Tapasimme Maaritin luona ristipistojen merkeissä (Irmeli, Maarit ja minä). Tuliaisiksi vein suklaakakun aikaisemmin pistelemäni vaniljakakun seuraksi. Mallihan on osa LHN:n Vanilla and Chocolate -mallia. Maaritin tarjoamat kakut olivat myös mitä herkullisempia :)
We met at Maarit's home (Irmeli, Maarit and I) and I gave her this little chocolate cake pillow. It is a pair for vanilla cake that I stitched earlier. And the design is LHN's Vanilla and Chocolate.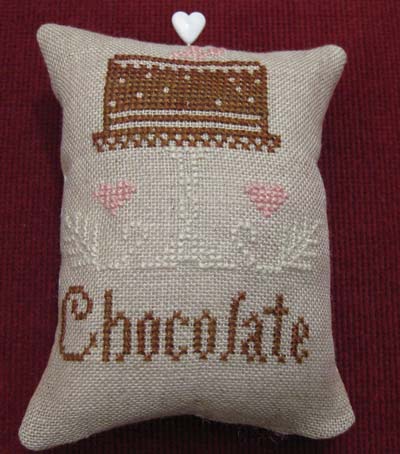 Odottelen innolla viikonloppua! Tulossa on kauan odotettu Emmulin ristipistoviikonloppu. Mietiskelen tässä, mitä ristipistoja sinne ottaisin mukaan. Minullahan on kesken kolme työtä (Madonna of garden, Tuscany garden ja Family sampler). Taidan ottaa Madonna-työn mukaan ja lisäksi täytyy varmaan aloittaa joku pieni työ. Tuskin jaksan koko ajan pistellä yhtä ja samaa työtä. Madonna on muuten nykyään tällaisessa vaiheessa.
I am waiting for the weekend. Emmuli Oy organizes the cross stitch weekend and we stitchers have so much waited for this! Now I wonder what to stitch there. I think that I'll take Madonna of garden with me and maybe I just have start the new work… By the way, Madonna is now like this.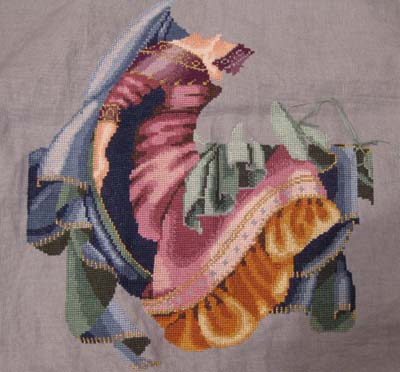 Laitetaanpa tähän loppuun vielä kuva kolmekymppiskortista, jonka tein. Ihan tosi simppeli 3D kuva ja valmista onnitteluteksti- ja numerotarraa.
Here is a photo of the birthday card that I sent to my friend who had her 30 year birthday.