Koko viikonloppu ristipistelyn, ihanan ruoan ja mukavien ystävien kanssa. Eikös kuulosta mukavalta :) Oli kyllä ihan huippuviikonloppu. Kiitos Emmulin Kirsille ja Emmalle järjestelyistä ja kaikille mukanaolleille pistelijöille (meitä oli 28) seurasta. Ruoka oli tosi hyvää ja sitä oli riittävästi – vaikka paluumatkalla pitikin poiketa ABC:lle… Kuvassa Wuolteen kartano järveltä päin ja järvi, joka oli vielä jäässä.
Whole weekend stitching, eating, laughing… What a great weekend. Kirsi and Emma from Emmuli organized a stitching weekend at Wuolteen kartano. We were 28 happy stitchers. The weather was not the best, it was raining and we have still quite cold in Finland. The Emmuli shop was open all the time. I bought some fabrics and a lovely basket.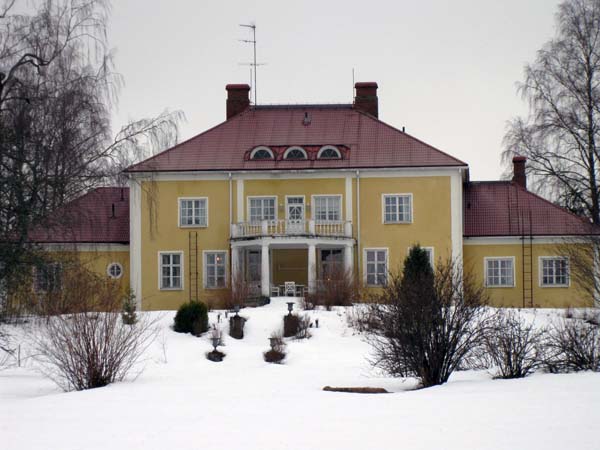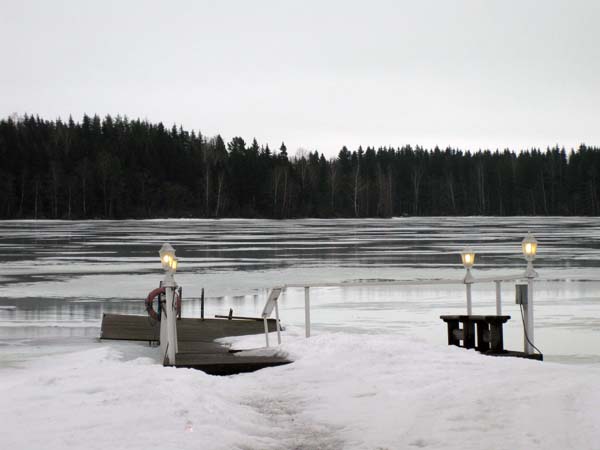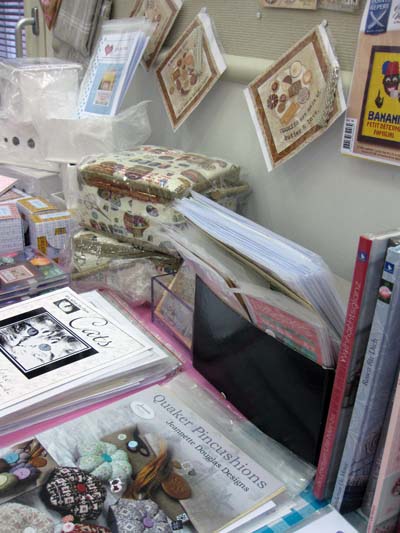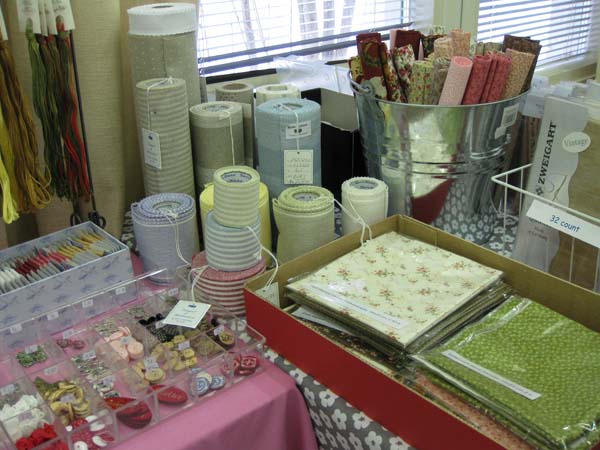 Kirsi oli hankkinut kivat tervetuliaispaketit meille. Paketissa oli Kirsin suunnitelema malli, pistelykangasta, lankaa, nappi ja viimeistelykangasta. Muutama tyyny valmistui jo viikonlopun aikana, omani mukaanlukien. Ohessa kuva valmistuneista tyynyistä ja lisäksi kuva minun tyynystäni.
Kirsi visited the handicraft fair of Paris earlier in spring and she had bought us some goodies. It was possible to make a pin cushion of those materials. Some of us finished the pin cushions at once. Here is a photo of those pin cushions and a photo of my work.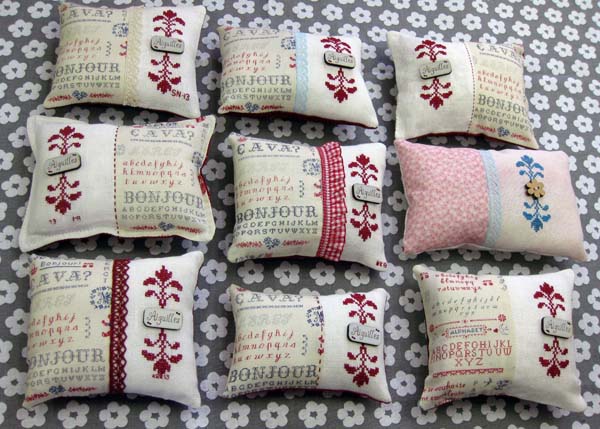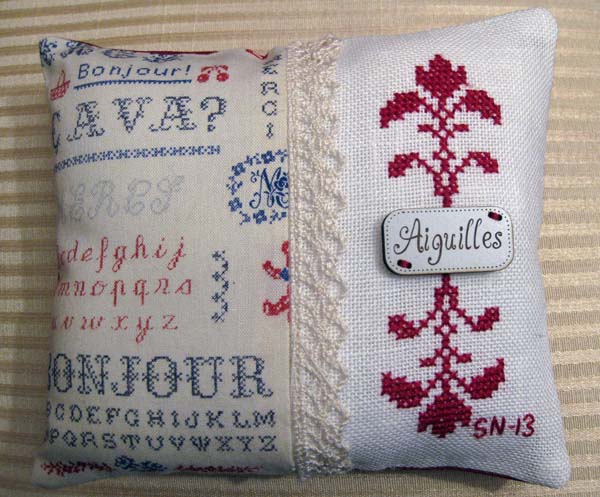 Meillä oli myös antoisa ristipistonäyttely paikalla. Kaikki toivat omia pistelyitään näytille ja saimme paljon viimeistelyideoita.
Look at these finished works that we could admire.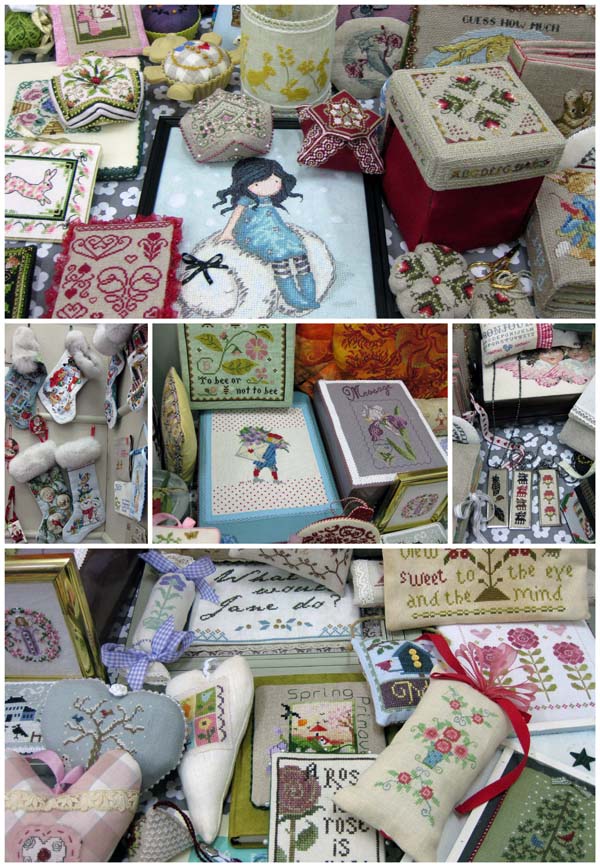 Sunnuntaina meillä oli vielä silkkinauhakirjonnan oppitunti. Mukavalta ja nopealta vaikutti tuokin käsityön laji. Tässä aikaansaanoksiamme. Viimeistelin oman harjoitteluni pieneksi saksikoristeeksi.
At sunday we had a lesson of silk ribbon embroidery. I made a little scissors fob.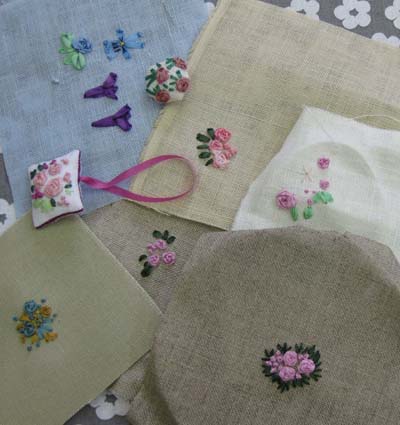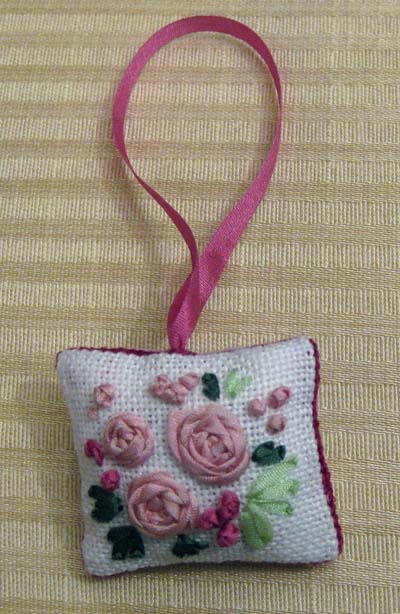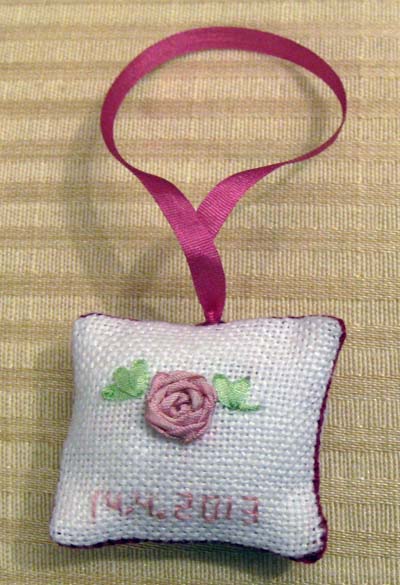 Oli kyllä todella virkistävä viikonloppu. Onneksi seuraavaan ristpistoviikonloppuun ei ole enää kolmeakaan viikkoa…
The weekend was just gorgeous and fortunately the next cross stitch weekend comes very soon…