Pretty Exchanges -blogissa oli satuvaihdoin toiveuusinta ja pitihän siihen osallistua! Sain Marialta kortin, suloisen kukkakeijurasian, ihanaa kangasta ja Petteri Kaniinin & kumppaneiden seikkailukirjan. Rasiaan laitan jotain kauniita nauhoja ja kankaasta teen todennäköisesti projektipussukan. Kiitos Maria, ihana paketti.
I participated in Fairy tale exchange in Pretty Exchanges. Maria had stitched me a nicbeautiful box with Flower Fairy cover. I also got nice fabric and a book of Beatrice Potter's creatures. Thank you Maria, what a nice exchange.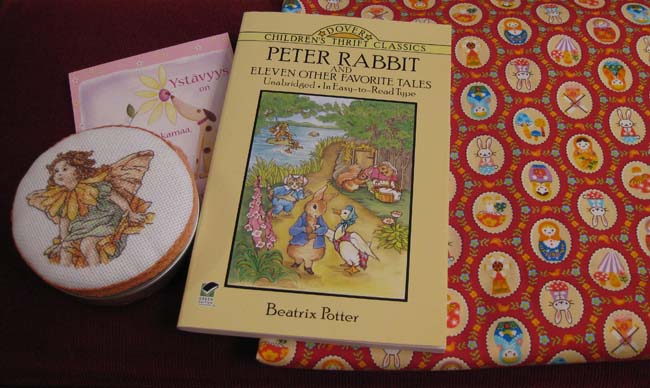 Itse tein Ullalle Lumiukko-aiheisen paketin. Pistelty lumiukkomalli on Snowman in Cross Stitcehs -kirjasta. Lisukkeiksi laitoin Lumiukko-kirjan ja kirjanmerkin. Ja askartelin vielä samaa sarjaa kortin.
I made this Snowman pinkeep for Ulla. She said that Snowman is her favorite. I also found her a bookmark kit and book.