Lainasin viime vuonna Kirsiltä Dimensionin Chistmas Critters -mallilehen ja pistelin jo viime kesänä tämän kissan. En oikein keksinyt, miten sen viimeistelisin ja ehdin jo pariin otteeseen hukatakin tämän :) Tänään, kun etsin yhteen toiseen työhön viimeistelymateriaalia, osui silmiini punainen huopakangas. Ja niinpä syntyi tällainen pannunalunen. En kylläkään aio tätä käyttää, vaan tämä on ihan koristeena seinällä.
This cat pot holder decoration (I am not going to use it, it is just decoration) is stitched from the booklet "Christmas Critters". I stitched this already at summer but finished today.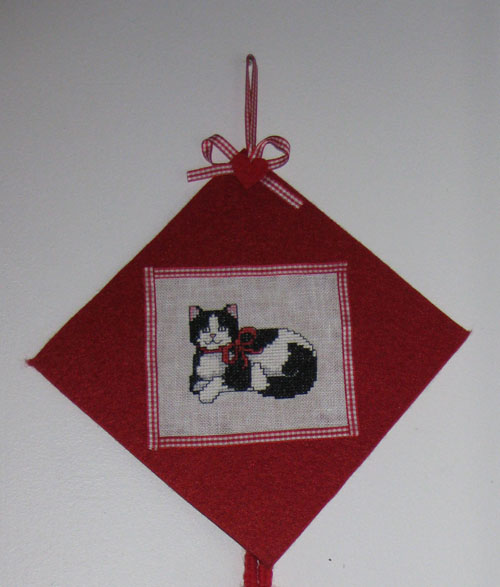 Felicity Price on suunnitellut kivoja miniatyyrimalleja. Tässä pikkuruinen matto. Käytin muuten pakkauksessa olleita materiaaleja, mutta vaihdoin tuon vihreän sävyn. Tämäkin pistely valmistui jo tammikuussa – tänään on siis ollut viimeistelypäivä.
This little carpet is designed by Felicity Price. I used original materials but changed the green color. The original was little bit brighter.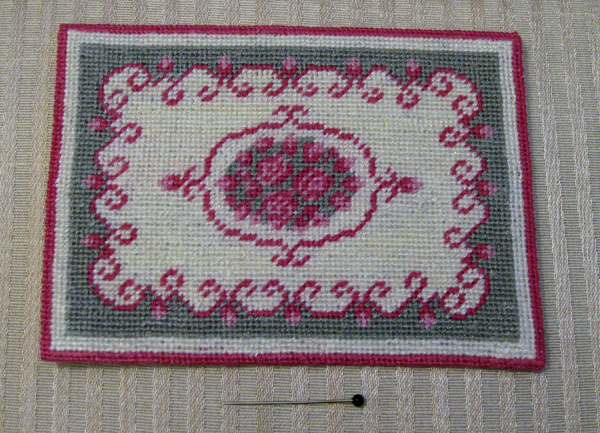 Ystävänpäiväksi sain Maaritilta kauniin pistellyn kortin ja Irmeliltä suloisen sydämen. Kiitos!
I got this nice card from Maarit and lovely heart from Irmeli at Valentine's day.