Maarit sai syntymäpäivälahjaksi muistikirjan. Kirjan kanteen pistelin Jardin Priven "Carres du Printemps" -mallista osan.
This notebook is for Maarit. I stitched part of Jardin Prive's "Carres du Printemps" on it.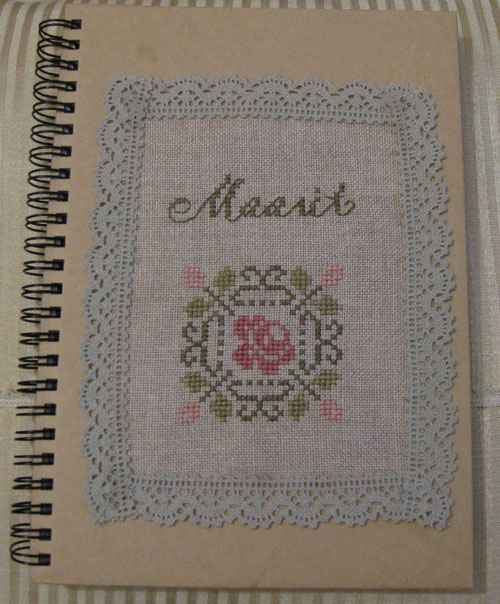 Innostuin pitkästä aikaa kutomaan sukkia ja lapasia. Ajattelin, että josko tekisin erilaisia sukkia tässä vuoden varrella, kun on niin valtavasti ihania ohjeita olemassa. Harmaat miesten lapaset ovat mukaelma Ullassa 03/09 julkaistuista Korinpohja-kämmeikkäistä. Violetinsävyinen kaulahuivi on Mokkasukka-langasta (värisävy Merikarvia). Huivin kuvio syntyy nostetuista silmukoista. Ohje löytyi Ravelrysta, mutta enpä enää muistakaan, mistä sieltä… Rosat sukat ovat vanhasta merinovillaisesta Woolista. Ne ovat noin kokoa 37 ja mallin löysin jostakin… Onpas informatiivista :) Edit. Malli löytyi…
I have knitted this spring. Here are mittens, socks and a scarf. The design of mittens is from Finnish knitting magazine Ulla, the pattern of socks is from here but I can't remember where I found the design of the scarf.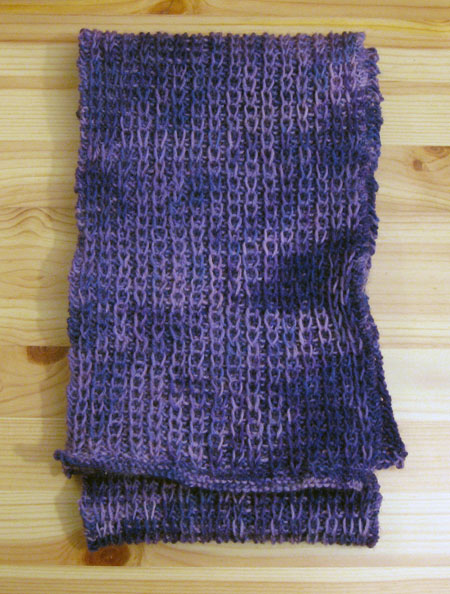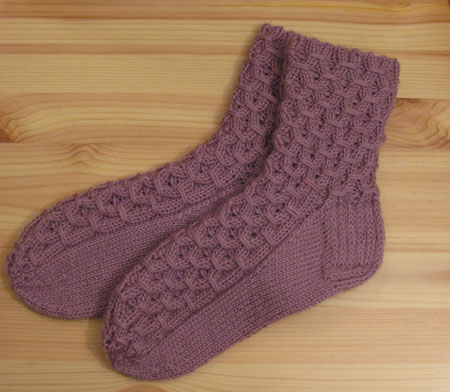 Tässä vielä kuva äitini ja tätini kutomista sukista. Nämä lähtevät Vaaka Ry:n projekteihin lämmittämään varpaita.
These socks are knitted by my mother and aunt. These are for charity.