Pistelin Jardin Privén ilmaismallin "Tie onnellisuuteen" italiankielisenä versiona. Malli on pistelty Belfast Linen 32ct – Vintage Dune -kankaalle Ninan langoilla. Tästä tulee taulu jahka saan vietyä kehystämöön. Maarit oli juuri vienyt omansa kehystäjälle, jota minäkin käytän – saa nähdä, tuleeko kehystäjälle mitään Déjà-vu:ta, kun näkee minun työni :)
I stitched Jardin Privé's "Way to happiness" (Italian version). It is stitched on Belfast Linen 32ct – Vintage Dune with Nina's threads. Nice design, I like this a lot.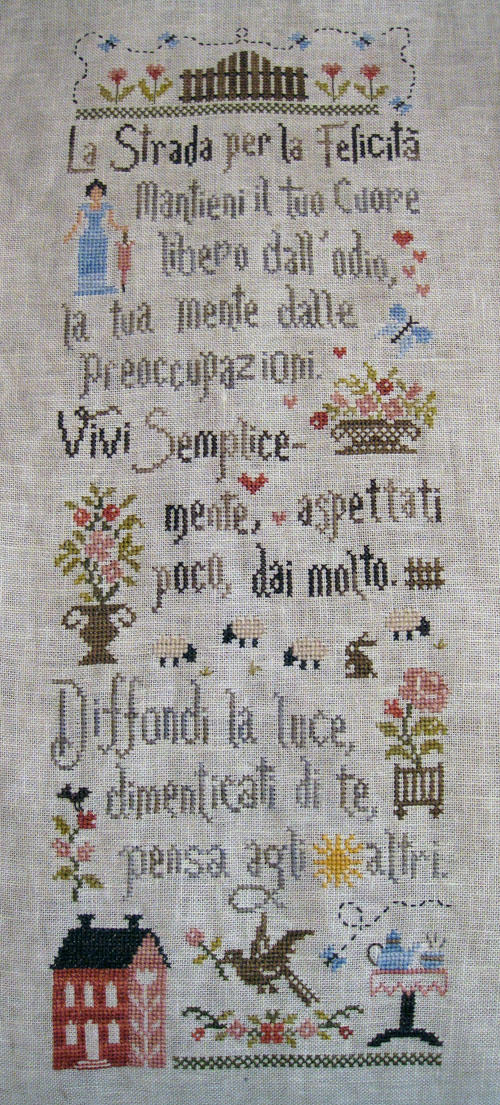 Anna-Marille pistelin pienen koristeen. Tämä on Emmulin ristipistoviikonlopussa saatu lahjakitti eli Love to stitch -malli "Tulip for you".
This Love to stitch design "Tulip for you" I stitched for Anna-Mari.