Pitkästä aikaa kuulumisia… Eilen kokoonnuttiin mukavalla porukalla meille pistelemään – kiitoksia seurasta Irmeli, Maarit, Arja ja Tarja! Ilta sujui mukavasti. Jutusteltiin mehiläistenhoidosta, intialaisesta ruoasta, tanssimisesta, ristipistoista jne. Syötiin Arjan tuomaa herkullista kinkkupiirakkaa ja minun tekemääni vähän erilaista kinkkupiirakkaa ja omppupiirakkaa.
Facebookin ristipistoryhmässä on juuri keskusteltu siitä, mikä on roikko. No roikkohan on koriste, jossa on nauha elikkä koriste, jonka saa roikkumaan. Sain Maaritilta mehiläisroikon, Irmeliltä sydänroikon ja Tarjalta oliiviroikon :) Tarjan roikko roikkuu sitruunaisen oliiviöljypullon ympärillä. Kuvassa vielä Maaritin tuomat karkit sekä Irmeliltä saamani lilasävyiset kankaat, lanka ja Sinooperin pienoishuonevihkonen.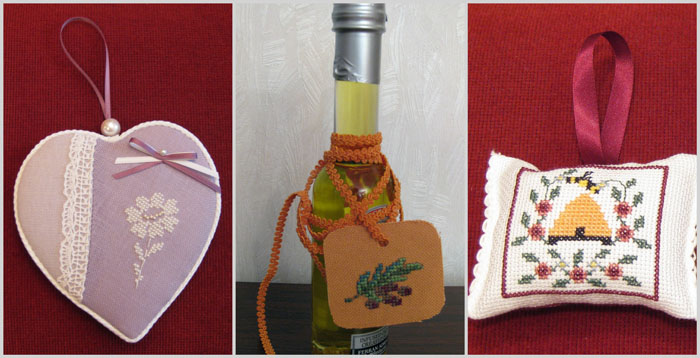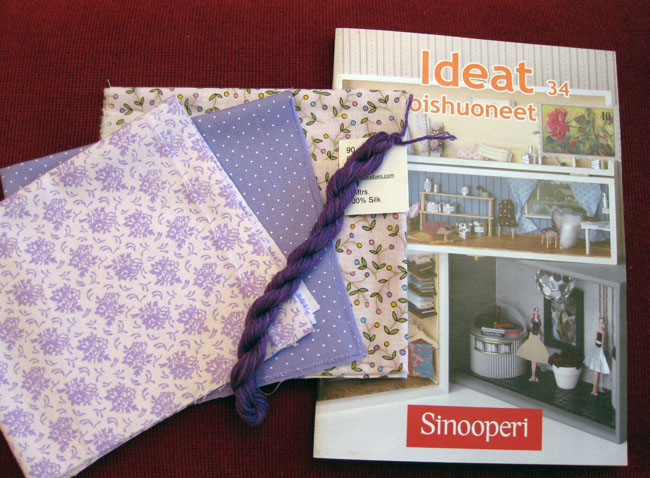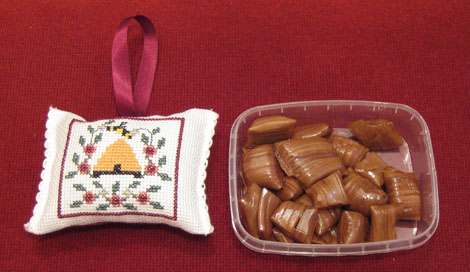 Yesterday we had our local cross stitch meeting at my home. Thank you Maarit, Irmeli, Arja and Tarja! It was nice to meet you, hope to see you soon again! Here are gifts that they brought to me.
Innostuin pistelemään Madame Chantillyn Liisa Ihmemaassa -mallia "Alice nel Paese delle Meraviglie". Pistelyssä olen suunnilleen puolivälissä nyt. Tämä on tosi kiva malli!
My recent stitches include Alice in Wonderland. This design is Madame Chantilly's "Alice nel Paese delle Meraviglie". I really like this!