Maijan kanssa vaihdettiin tänäkin vuonna synttäripaketit. Ja täytyyhän perinnettä jatkaa ensi vuonnakin – näin jo sovittiin. Pistelin Victoria Samplerin "Where stitchers gather" mallista osan ja viimeistelin sen neulavihkoksi. Vihkon sisällä on pala vaaleanpunaista huopaa. Tästä tuli pari viime vuonna pistelemälleni saksikoristeelle. Hyvää syntymäpäivää Maija!!
We had a birthday exchange with Maija and I stitched her this needle book. It is part of Victoria Samplers "Where stitchers gather" design. Last year I stitched her a scissors fob with the same design. Happy birthday Maija!!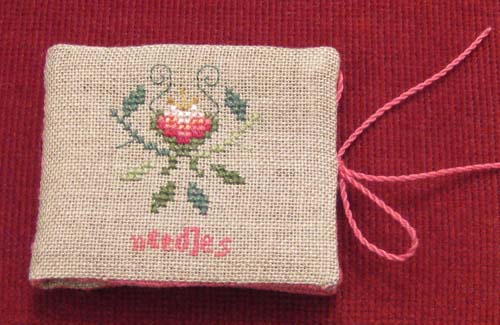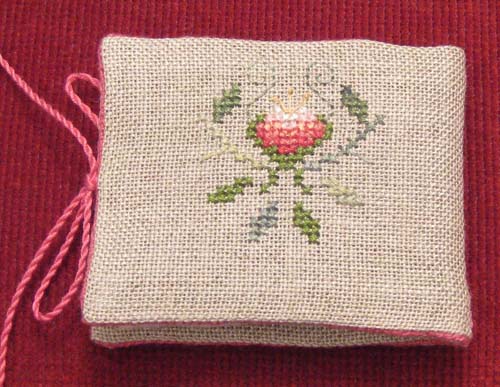 Pari viikkoa sitten kävin tutustumassa Turun nukkekotikerhon toimintaan. Kivaa oli :) Aiheena oli korinpunonta ja sain punottua pienen vaaleanpunaisen korin Faabeliin. Koripunonta on myös seuraavan kerran aiheena – tarkoitus on mennä jatkamaan harjoituksia. Korin halkaisija on n. 2 cm.
I made this little basket for my doll house Faabeli. The diameter of the basket is about 2 cm.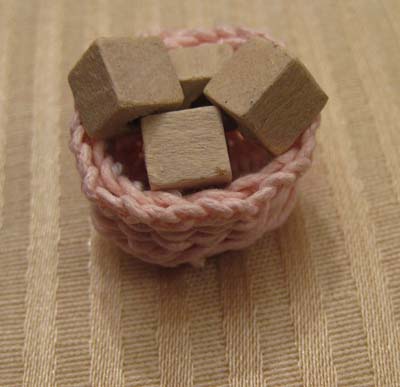 Maarit muisti taas itsepistellyllä pääsiäiskortilla ja Soile oli askarrellut kivan pupukortin. Kiitos myös muista korteista, joita olen saanut!
The stitched card is from Maarit and another is from Soile. Thank you girls!