Oi miten kiva päivä tänään olikaan – Kirsin luona ristipistotapaamisessa kokoontui toistakymmentä ristipistelijää ja lisäksi mukana oli Kirsin tytär, joka tekee ihania nukkekotijuttuja. Kirsi ja Emma ovat ahkeroineet hurjan määrän mitä upeampia nukkekoteja. Oli kiva tavata vanhoja ystäviä ja uusiakin tuttavia sain. Vaihdoimme myös pikkujoulupaketteja. Minä sain jouluisia kankaita, nauhaa, lankaa ja korttitelineen. Mia kertoi, että hän säilyttää telineessä Mailarteja. Se olikin oiva idea ja keräilin Mailart-kuoria telineeseen. Eteisen seinältä löytyi juuri sopiva paikka telineelle. Tämä on ihan huippuihana!
What a lovely day! We had a cross stitch meeting at Kirsi's home. There were over ten cross stitchers and the daughter of Kirsi. Kirsi and Emma have many nice doll houses – it was nice to see them. And it was nice to meet old friends and some new too. We gave small gifts to each other. I got Christmas fabrics, thread, ribbon and mailart display hanger. It is really nice!! The gift was from Mia.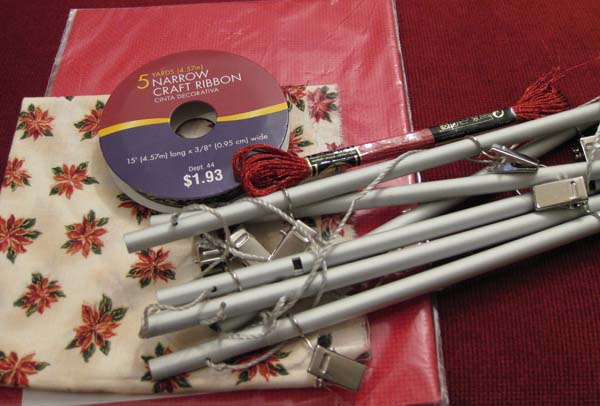 Katrilta sain ihanan yllätyksen – tyylikkään japanilaispistelyn. Katri kertoi, että merkit tarkoittavat sanaa "onnellisuus".
Katri surprised me with this lovely little pillow. The signs on it mean "Happyness". Thank you Katri, what a nice gift!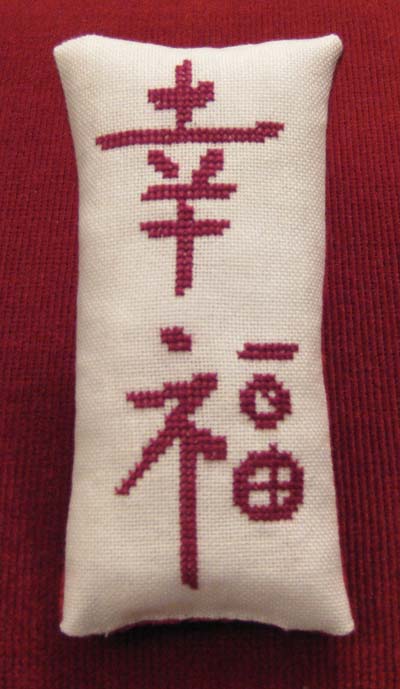 Marin kanssa minulla on tänä jouluna joulukalenterivaihto. Laatikko, jossa lahjat majailevat, on tosi ihana. Laatikossa kelpaa säilytellä tilkkukankaita. Vähän nauratti, kun Mari tokaisi Kirsin luona, että "Avataan hei nää kaikki paketit heti!" Ensimmäisestä paketista tuli kissakangasta, toisesta lankoja ja kolmannesta LHN:n "Joy and Peace". Niin kiva on aloittaa päivä paketin avaamisella – tuskin maltan odottaa huomista :)
We have an advent calendar exchange with Mari. The gifts are in this lovely box. On first day of December I got cute cat fabric, threads on second day and "Joy and Peace" from LHN on third day. I almost can't wait for tomorrow :)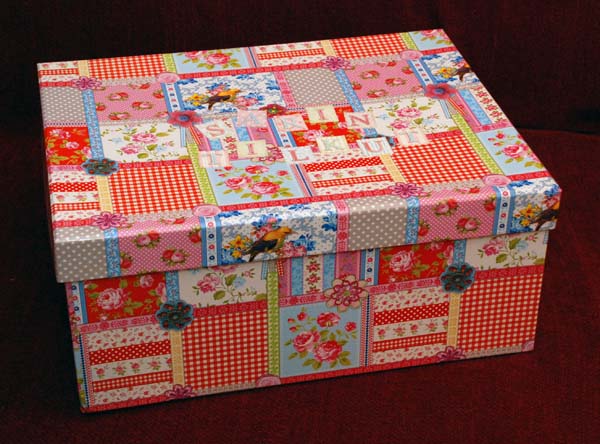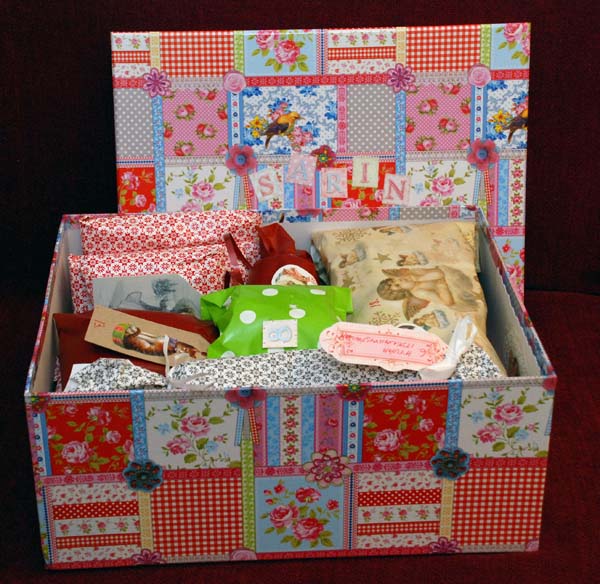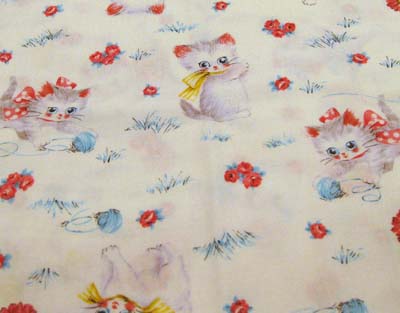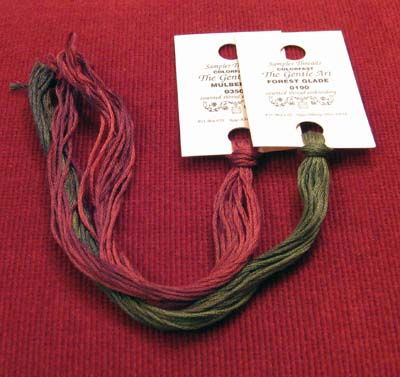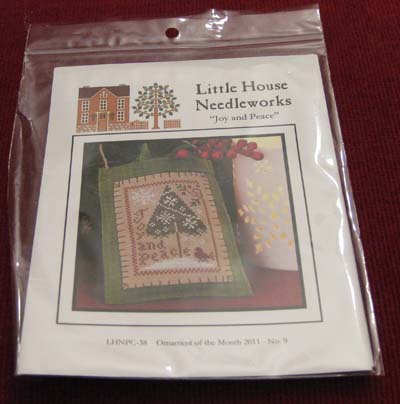 Joulupalloja olen kutonut kolme kappaletta. Näitä pitää tehdä lisää, mutta todennäköisesti vasta ensi vuoden aikana. Poropyörykän vein tänään Kirsille tuliaisiksi.
I have knitted some Christmas balls. The blue one with reindeer was my gift to Kirsi.