Olipa mukava viikonloppu! Perjantaina kokoonnuimme (Maarit, Soile, Irmeli ja minä) pistelemään Maaritin luo. Maaritin ystävä oli leiponut ristipistokoristeisen täytekakun, mutta valitettavasti en huomannut ottaa siitä valokuvaa. Oli kyllä hienonnäköinen kakku! Muutenkin oli mukavaa, kuten aina :) Kiitos Maaritille tapaamisen järjestämisestä.
Mahtavan lauantai-päivän taas vietimme 16 pistelijän kesken Outin luona pistelemässä ja ihastelemassa Outin tauluja ja muita käsitöitä. Aivan ihania käsitöitä oli jokapuolella, mihin vain katseensa kohdistikin. Kiitos myös Outille tapaamisen järjestämisestä.
Maaritille en tällä kertaa vienyt mitään itse tehtyä tuliaisiksi, mutta Outille vein tee-aiheisen rasian ja teetä. Tea time -malli on vihkosesta "Tiny Tea Motifs".
What a weekend! Maarit, Soile, Irmeli and I met at Maarit's home on Friday. We had great time. And today was a cross stitch meeting at Outi's home. It was so nice to meet with 15 stitchers! And it was really wonderful to see Outi's cross stitches and other handicrafts. Thank you Maarit and Outi for the meetings.
This little box I stitched for Outi. The design is from the booklet "Tiny tea Motifs".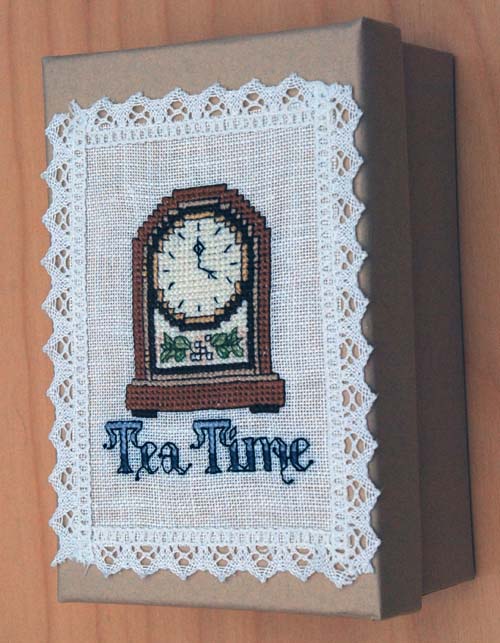 Ystävämme Anni meni naimisiin ja keväällä ryhdyimme pistelemään hänelle häälahjaksi peittoa. Tässä minun pistelemäni kaksi palasta peittoon. Ressu ompeli peiton valmiiksi ja hänen blogistaan löytyy kuvia peitosta.
Our stitching friend Anni got married and we stitched her a wedding quilt. Here are my pieces and the whole quilt you can see on Ressu's blog.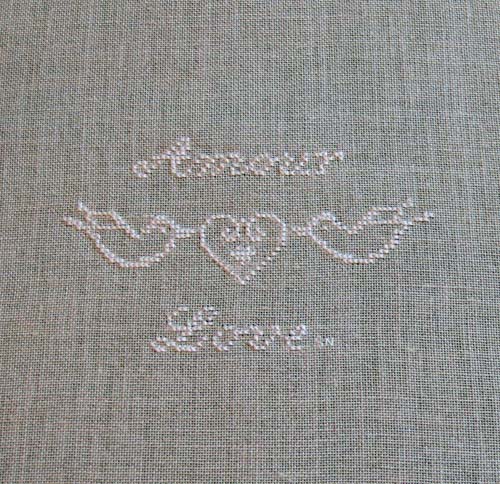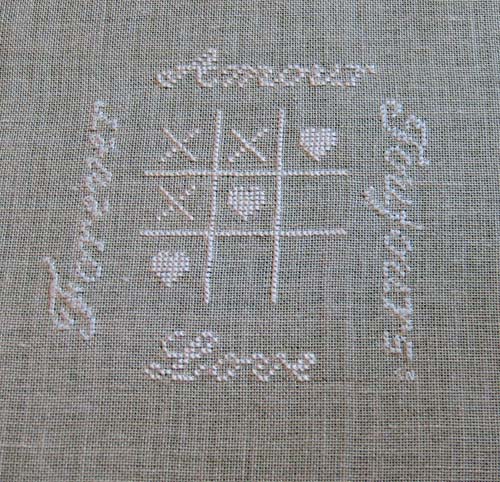 Viimeksi taisin mainita, että seuraavalla kertaa neulekuvia, mutta palataan niihin myöhemmin, kunhan olen saanut kuvattua neuleeni.