Kesälomalla (joka loppui jo viikko sitten) lomailtiin kotiseudulla ja jonkin verran käsitöitä sain aikaiseksi. Outin ristipistotapaamiseen vein lahjaksi Pariisi-pinkeepin. Taustakankaaksikin löytyi kiva Pariisi-kangas. Malli on ilmaismalli täältä, kankaana käytin Belfast Linen 32 ct Vintage Dune -kangasta ja lankana The Gentle Artsin Simply Shaker -lankaa (väri Walnut).
Outi organized nice cross stitch meeting. We were over 15 stitchers at her home. I stitched her this Eiffel-pinkeep. The design is a freebie, the fabric is Belfast Linen 32 ct Vintage Dune and the thread is the Gentle Arts Simply Shaker, colour Walnut.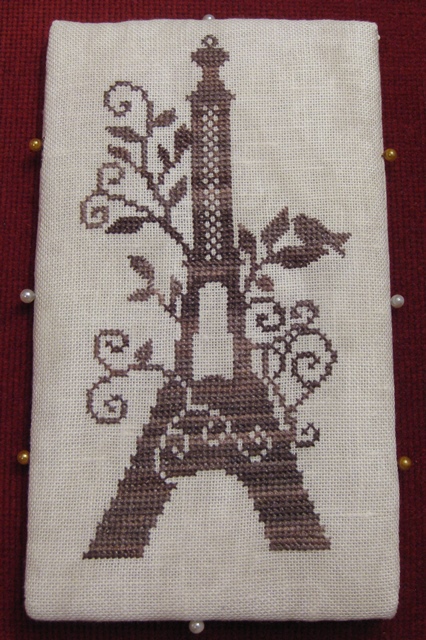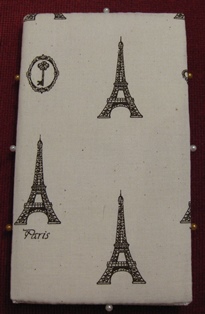 Sain äidiltä uuden ompelukoneen! Nyt olen tutustunut uuteen koneeseen ompelemalla pari käsityöpussia ja kasan neulatyynyjä. Käsityöpussit olen tehnyt mukaellen tätä ohjetta (olen muutellut mittoja kangaspalojeni kokoihin sopiviksi). Neulatyynyt ovat oman pään mukaan tehty ja ne ovat menossa Vaaka ry:n Vaakapuotiin myytäväksi.
I got a new sewing machine from my mother. Now I have sewed two project bags and some pin cushions. The design of the project bags is from here but I have changed the sizes of the bags. Pin cushions are for charity.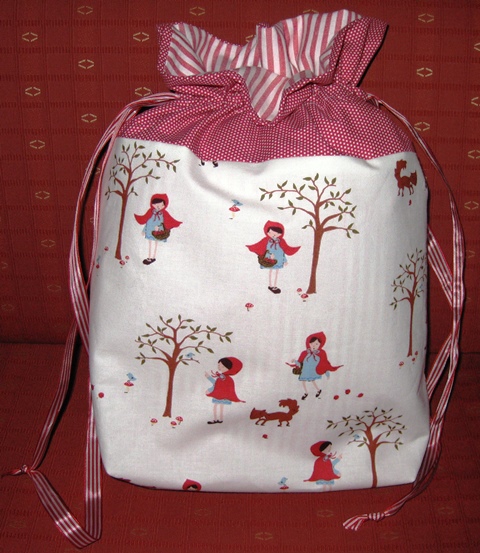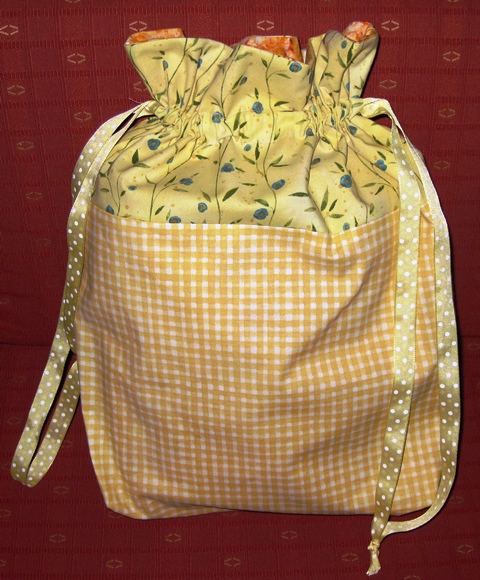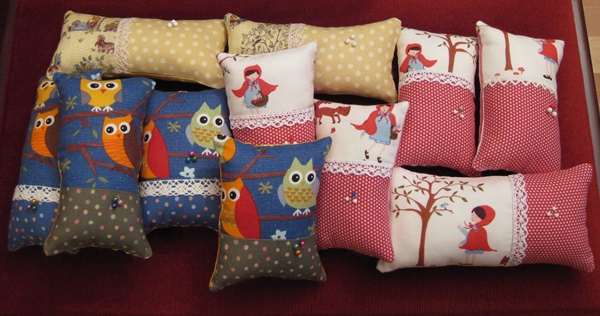 Tarkoitukseni oli saada Family Sampler (Little House Needleworks) valmiiksi loman aikana, mutta ihan en onnistunut. Vasta torstaina (siis ekalla työviikolla) pistelyosuus valmistui. Meillä ei ole lemmikkieläimiä, mutta jos olisi, niin tykkäisin kovasti keltaisesta ja harmaasta kissasta :) Tästä tulee taulu eli pitää viedä kehystäjälle. Minulla on kaksi muutakin työtä odottamassa kehystystä elikkä kohta saamme kolme uutta taulua seinälle. Family Sampler oli muuten vuoden 2011 ristipistohassutustyö ja nyt kaikki ko. vuoden hassutustyöt ovat valmiit. Family Samplerissa on kankaana 32 Count Belfast Linen Vintage Country Cream. Pistellyn alueen koko on 33 cm x 48 cm eli tämä on aika iso.
I hoped to finish the Family Sampler during my summer holiday, but I didn't just succeed. But last week I finished it and this is how it looks. We don't have pets but I would love to have yellow and grey cats! This was stitched on 32 Count Belfast Linen Vintage Country Cream and the size of the stitched area is 33 cm x 48 cm, so this is quite big.