Vuoden ensimmäinen työ on perinteisesti Marin synttärilahja. Tällä kertaa pistelin ruusurivin tyynyyn. Tämä sopisi kivasti myös pyyheliinaan koristeeksi. Malli on Lulin blogista. Blogissa on muuten paljon ihania ilmaismalleja.
The first stitched pillow of the year is a birthday present to Mari. These roses are from Luli's blog. By the way, there are lots of nice freebies in her blog!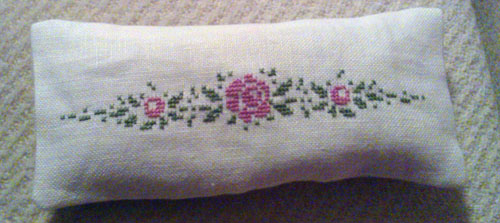 Olen pitkästä aikaa kutonutkin. Tämä setti menee todennäköisesti Vaaka ry:n keräyksiin. Nyt on puikoilla vähän isommat lapaset – tänä vuonna Vaakan vuoden käsityö on "Kädenlämmittimet".
These little socks and mittens are for charity. I am going to knit some mittens this year.