Meillä on Turussa ristpistotapaamiset useimmiten viikolla. Nyt järjestin lauantaitapaamisen ja mukaan saatiin ihmisiä Tampereen, Helsingin ja Porin suunnalta. Ihanaa oli nähdä Irmeliä, Maarittia, Mariaa, "Sini Helmeä", Outia, Marttaa, Pauliinaa, Katria ja Ressua. Päivä vierähti taas niin nopeasti. Tytöt katselivat minun ristipistomallivarastoani ja muutaman vihkosen kohdalla ihmettelin, että "onko mulla tuollainenkin" :) Pitäisi varmaan kahlata mallit läpi.
We had a nice cross stitch meeting today. The time went so quickly. Women looked at my cross stitch books and I was surprised about some designs I have. I have not remembered that I have them :)
Sain mielettömän määrän ihania tuliaisia! Kiitos! Nyt seuraa iso kuvapläjäys…
I got wonderful gifts! Thank you! Here are lot's of photos…
Marialta kaunis talvinen Lizzie Katen malli pisteltynä tyynyyn ja nauhoja. Ihanat värit tuossa pistelyssä.
Lizzie Kate's design stitched as a pillow and ribbons from Maria.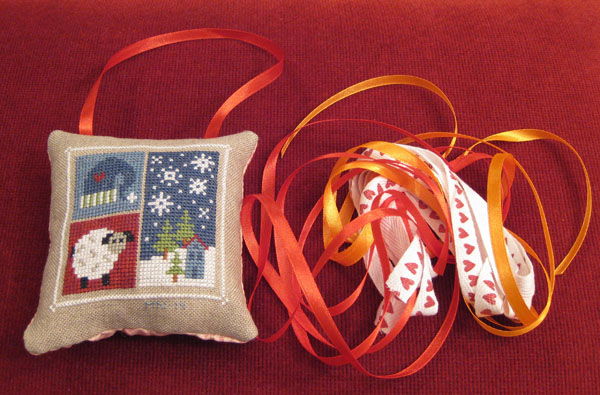 Kaunis pannulappu Maaritilta. Tosi kiva viimeistelyidea tässä!
Nice pot holder from Maarit. What a nice idea!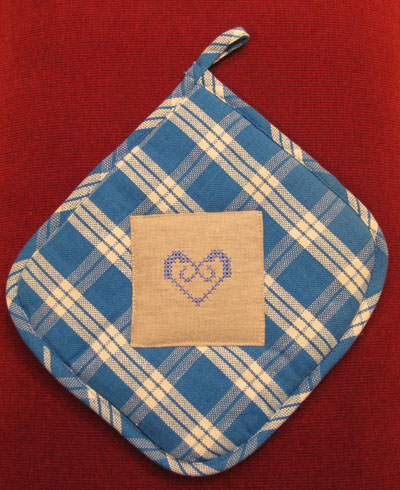 Kiva talvinen malli, veikeä kissakangas ja pikkutilpehööriä Irmeliltä.
Nice Winter Sampler, cat fabric and some goodies from Irmeli.
Outilta ja Martalta sain kauniin punatulkkukankaan, nauhaa ja tilpehöörejä ja ihanan päällystetyn vihkon (sisälle voi vaihtaa uuden vihkon, kun tämä tulee täyteen). Alla myös kuva takakannesta ja sisältä.
Outi and Martta gave me a nice bird fabric, some goodies and coverd note book.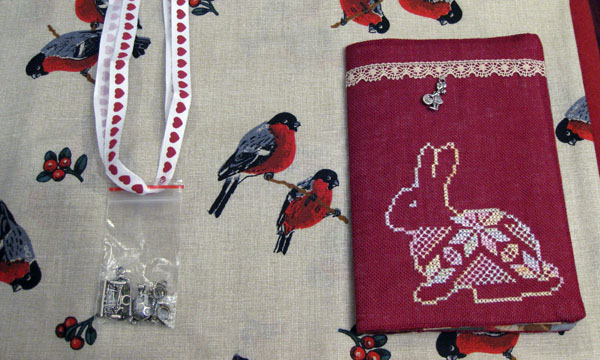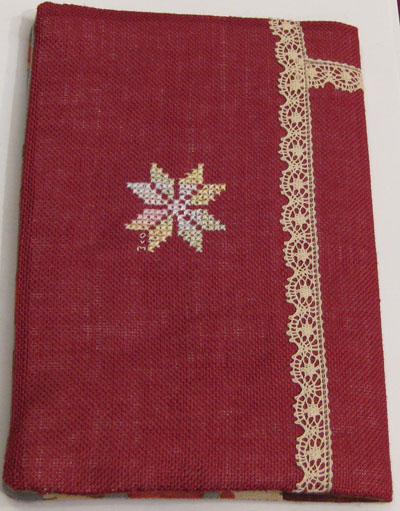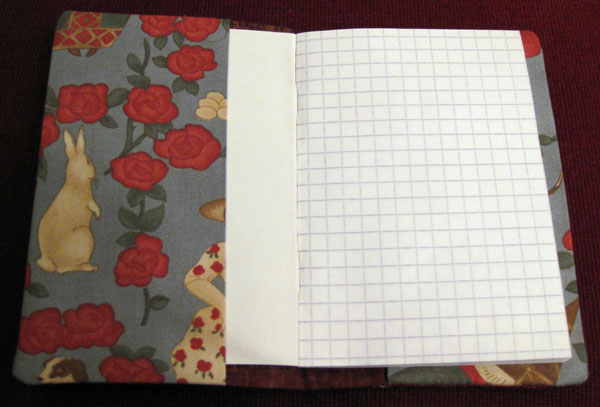 Pauliinalta sain suloisen kisulityynyn. Liukuvärjätty lanka on kiva idea kissan raidoitukseen.
This sweet cat pillow is from Pauliina.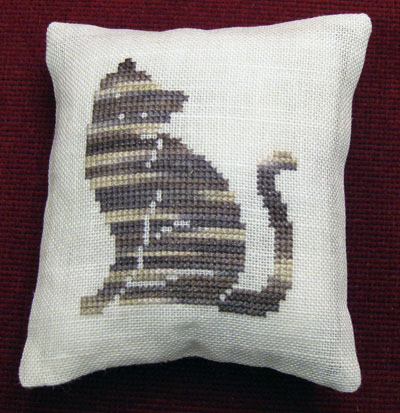 Katri tekee nukkekotikokoisia hattuja. Tässä kaksi hienoa hattua.
These hats (for dolls house) are from Katri.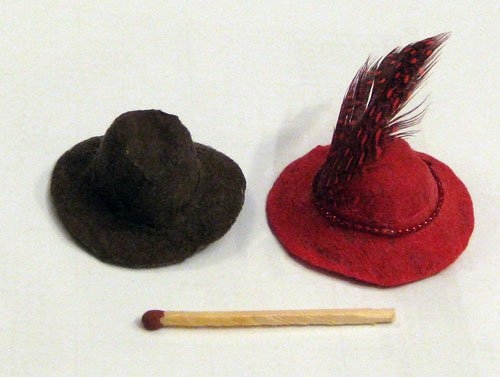 Oletteko ikipäivinä nähneet tällaista? Tämä ihan mahtava neulalaukku on Ressulta. Tässä laukku ulkoa ja sisältä. Tähän olisi pitänyt laittaa myös tulitikku mittakaavaksi. Ei ole mikään nukkekotikokoinen, mutta aika pieni kuitenkin – juuri sopivankokoinen neuloille.
Have you ever seen anything like this? A bag for needles is stitched by Ressu.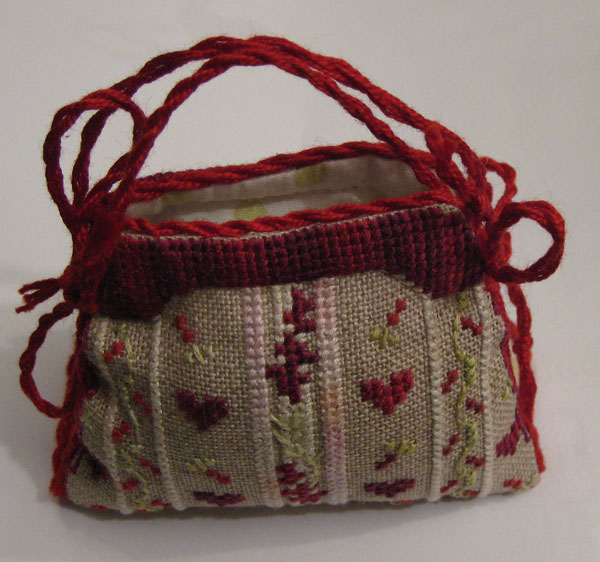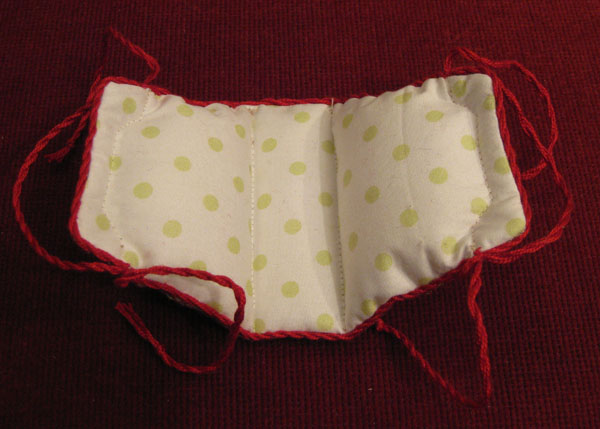 Sini Helmeltä sain kevätesikon (kai se oli sellainen, olen huono kukkatuntija), kauniin rasian, jossa oli mitä suloisin virkattu pöllö ja vielä kaunis pitsiliinakin.
These lovely crocheted things are from Sini Helmi.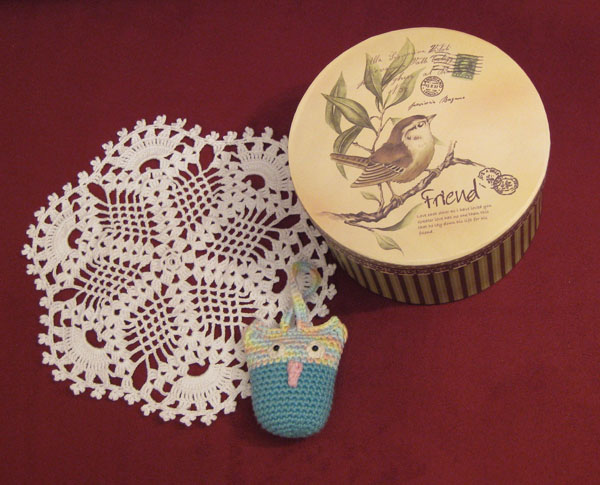 Tässä vielä kaikki käsintehdyt tuliaiset yhteispotretissa.
And here all hand made things together.